With support from USAMRDC's Military Infectious Diseases Research Program (MIDRP) and Military Operational Medicine Research Program (MOMRP), Sibel Health has developed an ICU-grade wearable sensor platform with novel respiratory biomarkers to diagnose and detect pre- and very early symptomatic COVID-19 infection using predictive machine learning algorithms. Recently, Sibel Health tested their device, ANNETM One, on frontline health care workers and high-risk select patients in Chicago-area hospitals, including a patient who wore the ANNETM One after receiving a double-lung transplant due to complications from COVID-19. Sibel Health has completed their larger study of over 300 high-risk subjects for COVID-19.
COVID-19 is a highly contagious respiratory infection that ranges from asymptomatic presentation to fatal, progressive pneumonia. The continued lag in the availability of COVID-19 laboratory testing necessitates the need for advanced, non-invasive wearable diagnostic systems that can identify and help isolate pre-symptomatic or early-symptomatic cases by measuring key physiological biomarkers in a continuous, wearable manner. Sibel Health's overall project goal is to detect pre- and early symptomatic COVID-19 infection in high-risk patient populations. Additionally, Steve Xu MD, Founder and CEO of Sibel Health, believes that their sensors and algorithms could be applied to other serious viruses such as influenza. The ANNETM One system is already being used to assess respiratory syncytial virus (RSV) in children worldwide.

Sibel Health's sensor technology is novel in its advanced mechanical features allowing for comprehensive vital signs monitoring while being mechanically invisible to wear. The ANNETM Chest unit provides continuous bipolar 1-lead electrocardiography (ECG), 3-axis high-frequency accelerometry, and temperature for real-time monitoring of heart rate, heart rate variability, physical activity, body position, and respiratory rate. The ANNETM Limb unit is an optional add-on that offers continuous photoplethysmography for measuring oxygen saturation and temperature. The novel soft mechanics allow for intimate skin conformability for the capture of advanced, novel respiratory biomarkers via minute acoustomechanic signals that are difficult, if not impossible, to detect with traditional platforms. Enabled by soft mechanics, Sibel is able to exploit locations with the ANNETM Chest unit of high physiological information density, specifically the suprasternal notch. This small area of the body at the base of the neck offers a zero dampening effect of an underlying bony structure between the skin and the intrathoracic cavity, allowing for high-fidelity capture of COVID-19 specific measurements such as cough count, cough intensity, cough duration, respiratory effort, and high-frequency respiratory sounds such as wheezing.
"While popular wearables have been used for COVID-19 surveillance, they do not measure any of the three most common symptoms: fever, cough and shortness of breath," said Northwestern's John A. Rogers, who led the device's development. "If we want to catch COVID-19 at the earliest stages, then it is critical for a diagnostic system to detect these common symptoms."
The entire system is compatible with a wide range of mobile devices (ANNETM Tablet/Phone) for real-time streaming or on-sensor data storage synchronized with the cloud (HIPAA compliant / HITRUST certified web application).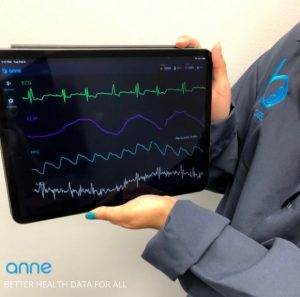 The entire system is compatible with a wide range of mobile devices (ANNETM Tablet/Phone) for real-time streaming or on-sensor data storage synchronized with the cloud (HIPAA compliant / HITRUST certified web application).
So far, Sibel Health has discovered various hidden physiological features that indicate COVID infection in advance and are continuing to uncover more features through machine learning. Recruitment for the study ended in April 2021, and Sibel Health continues to optimize their algorithm for advanced detection. In progress is also their work on platform integration between ANNETM One and the BATDOKTM platform to ensure military relevance.
"We're excited about this current effort to develop better and better early detection algorithms for our system," Xu said. "We think our technology can make a difference right now in tracking recovery, facilitating a safe return to work for employees and many other remote monitoring use cases." For more information, visit Sibel Health and Northwestern University's press release regarding this project.This project was funded through MTEC's Request for Project Proposals for wearable diagnostics for detection of COVID-19 infection (Solicitation #20-12-COVID19_Diagnostics).
About Sibel Health:
Sibel Health, through engineering excellence, will deliver Better Health Data for All by developing soft, flexible sensors that are powered by advanced analytics, operated by best-in-class software, and optimized for artificial intelligence and machine learning. Their core product, ANNETM One, is an advanced system of bio-integrated sensors that offer ICU-grade monitoring capabilities.