The Medical Technology Enterprise Consortium (MTEC) hosted our 6th Annual Membership Meeting in March 2021. This virtual 4-day conference focused on accelerating modernization to enable multi-domain operations. At the conference, MTEC presented the Prototype of the Year Awards to Centivax and Kitware, Sponsor Recognition Awards to Colonel Stuart Tyner on behalf of the U.S. Army Medical Research and Development Command's (USAMRDC's) Military Infectious Diseases Research Program (MIDRP), Colonel Jeremy Pamplin on behalf of the USAMRDC's Telemedicine and Advanced Technology Research Center (TATRC), and Commander Christopher Steele on behalf of the USAMRDC's Military Operational Medicine Research Program (MOMRP), and the Impact Award to BrightFocus Foundation.
Prototype of the Year Award
The award category is intended to recognize two MTEC organizations that have made substantial progress on the advancement of their prototype development related to their MTEC awards. Awardees were selected based on the following criteria:
Progress must be ahead or on schedule
Results support the feasibility of the approach and the development towards the end prototype state
The prototype has the potential to impact both military and civilian populations
A commercialization partner is committed to transitioning the prototype into a final product available for the end user
First, we would like to congratulate Centivax on their project entitled, Novel Engineered Antibody Neutralizes Pandemic Coronaviruses. Centivax is a therapeutics company founded to treat, cure and eradicate complex pathogens of the 21st century. This goal is executed by combining computationally-guided therapeutic engineering to efficiently make break-through medicines. In 2019, Centivax's universal vaccine technology had been awarded a Gates Foundation Grand Challenge "End the Pandemic Threat" award and in 2020, was featured in the Netflix documentary series Pandemic: How to Prevent an Outbreak. With MTEC funding, Centivax is developing an optimized antibody therapeutic to treat, as well as protect against, COVID-19. The team was able to successfully engineer a potent therapeutic antibody in less than 9 weeks. The antibody has also been engineered for optimal therapeutic properties including prevention against antibody-dependent enhancement, enhanced potency, thermostability, bioavailability, extended half-life, and enhanced safety. Centivax anticipates that the antibody will be delivered intravenously as well as subcutaneously and will be useful in both hospital and non-hospital settings. This would address the military need for a field-deployable treatment for COVID-19. Under the MTEC award, Centivax also completed the relevant animal and toxicology studies, and they are currently in manufacturing and planning to conduct a clinical trial this year. This award was accepted by Jacob Glanville, the Founder, CEO, and President of Centivax. Congratulations to Centivax!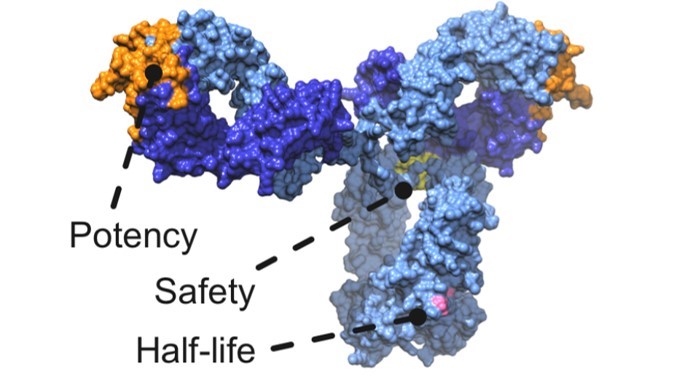 Centivax's SARS-CoV-2 (COVID-19) monoclonal antibody therapeutic program is entering clinical development. It has been enhanced for 1) safety to avoid immunotoxicity, 2) long-half life and better tissue penetration to protect the lungs better and longer, and 3) for convenient injectable delivery outside of a hospital setting.
Secondly, we would like to congratulate Kitware on their project entitled, AI-Enhanced System for Detecting Severe TBI. During frontline medical emergencies, as encountered in far-forward military or civilian pandemic environments, ultrasound devices may be readily available but the expertise to use them is often not. The deployment of artificial intelligence (AI)-enhanced point-of-care ultrasound systems is key in providing timely, rapid, and effective ultrasound-based exams in these critical situations. Kitware, in collaboration with Duke University, have been working to create an AI-enhanced system for detecting severe traumatic brain injury (TBI) by augmenting commercially-available point-of-care ultrasound devices with AI algorithms. Major, acute subdural hematomas in these patients produce life-threatening elevated intracranial pressure which, if detected and treated more than four hours after the injury, are associated with 90% mortality.  However, if detected and treated earlier, there is only a 30% mortality rate. The proposed easy-to-use, non-invasive, and portable system will detect elevated intracranial pressure in real-time from automated measurements of optic nerve sheath diameter and can be operated by personnel unskilled in ultrasonography. With MTEC funding, the team has made significant progress on development of the real-time AI algorithm that will be combined with at least four commercially-available ultrasound probes. They have also published their algorithm and its performance on phantom data and they were awarded runner-up at the 2020 Medical Image Computing and Computer Assisted Interventions (MICCAI) Advances in Simplifying Medical Ultrasound Workshop for their live demonstration. And despite the pandemic and its significant impact on facility closures, Kitware is actually 6 months ahead of schedule and have been approved to initiate a human study with both healthy volunteers and emergency TBI patients this quarter. This award was accepted by Brad Moore, Senior R&D Engineer at Kitware. Congratulations to Kitware!
Kitware seeks to harness the integration of machine learning algorithms and rugged, portable ultrasound devices to develop an easy-to-use system that enables emergency responders to quickly assess the severity of a patient's injuries at accidents and in remote environments in which expert medical imaging personnel and advanced imaging equipment are not readily available.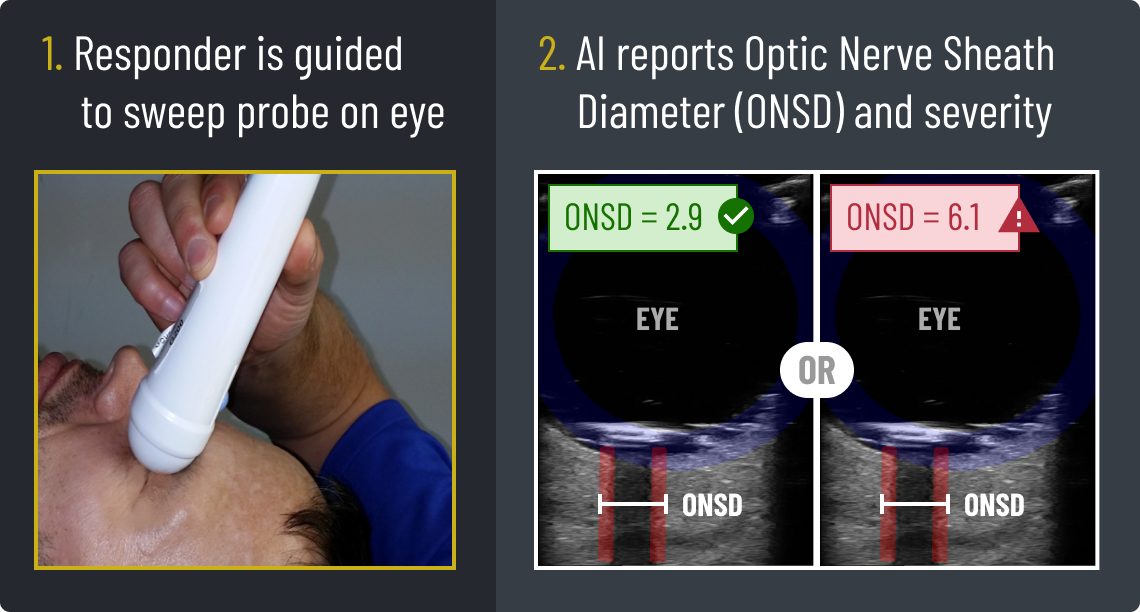 Sponsor Recognition Award
MTEC is honored to present, for the first time, our Sponsor Recognition Awards. The Sponsor Recognition Awards recognize the urgent, agile, and flexible response to the COVID-19 pandemic. MTEC and the sponsors demonstrated tremendous flexibility in utilizing an Enhanced White Paper methodology and ended up awarding 26 projects for a total of $76.7 million in federal funding plus another $9 million in cost share. We'd like to thank all of these sponsors and their teams, as well as the awardees for their work related to the COVID-19 response.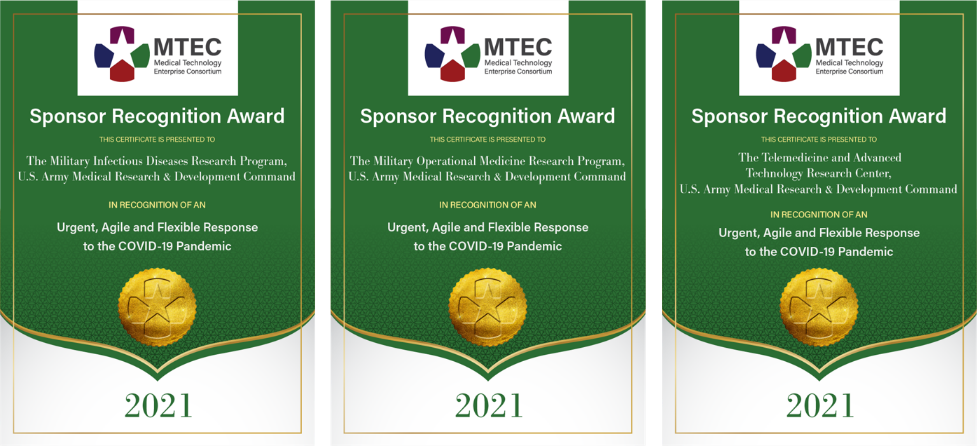 Impact Award
Treating traumatic brain injury (TBI) remains one of the top priorities for the Department of Defense (DoD). Future combat operations are expected to result in an increase in time to evacuation, delaying TBI diagnosis and treatment during the most critical period after injury. The DoD and the military services require solutions to fill the capability gap to treat TBI as close to point of injury as possible to reduce primary and secondary brain damage.
In light of this, MTEC partnered with BrightFocus Foundation, a foundation that funds scientific research worldwide to defeat Alzheimer's disease, macular degeneration, and glaucoma. MTEC and BrightFocus Foundation released a jointly funded Request for Project Proposals (MTEC-20-16-mTBI) aiming to catapult drugs for the treatment of repeated mild TBI with dual-use (military and civilian applications) toward human clinical trials to ensure that a pipeline of drug candidates is ready for safety and efficacy evaluation. MTEC is honored to present this year's Impact Award to BrightFocus Foundation. This award was accepted by Stacy Haller, the President and CEO of BrightFocus. Congratulations to BrightFocus Foundation!